Public engagement efforts tend to follow a regular cadence of ebb and flow, but the arrival of COVID-19 is dramatically changing that, stretching every resource available. For many of you this crisis is unprecedented, and clear, consistent communication with your community is critical.
Starting today, we're throwing everything we've got at helping you prepare and respond to this challenge.
Community Resources
We're building out a COVID-19 Engagement Playbook, complete with messaging templates, landing page templates, and survey templates – so you can quickly deploy best practices.
We'll be hosting a live webinar and training based on the COVID-19 Engagement Playbook on Friday, March 20th at 2pm EST (more info below).
Sign up to receive COVID-19 Engagement Playbook:
Open Access To Communications Cloud & Turnkey Engagement Toolkit
Effective Monday, March 16 – and for the following 45 days
Current PublicInput.com partners: We are opening up our Communications Cloud (integrated email campaigns, text message alerts, and targeted social media outreach) to all customers, regardless of license.
If your organization is not a current PublicInput.com partner: Our team is reallocating our resources and staff capacity to offer a turnkey engagement solution set at P-Card levels.
Virtual meetings module to take meetings online, with integrations for Facebook Live and YouTube Live.
An online engagement hub for public meetings, subscriber alerts signup, and the latest communications.
Ready-to-go landing pages for a preparedness quiz, public health pledge, and subscriber alerts signup.
These tools can be deployed same-day with a fixed rate of $799/month for a single department with up to 5 system administrators. All set-up and training can be conducted on a brief kickoff call. Get started here.
The benefits of the Communications Cloud are also available at a provisional rate, and a quick quote can be provided based on estimated volume of emails, texts, and paid social media promotion.
Announcing Virtual Meeting Tools: Integrated Live Stream, Webinars & Screen sharing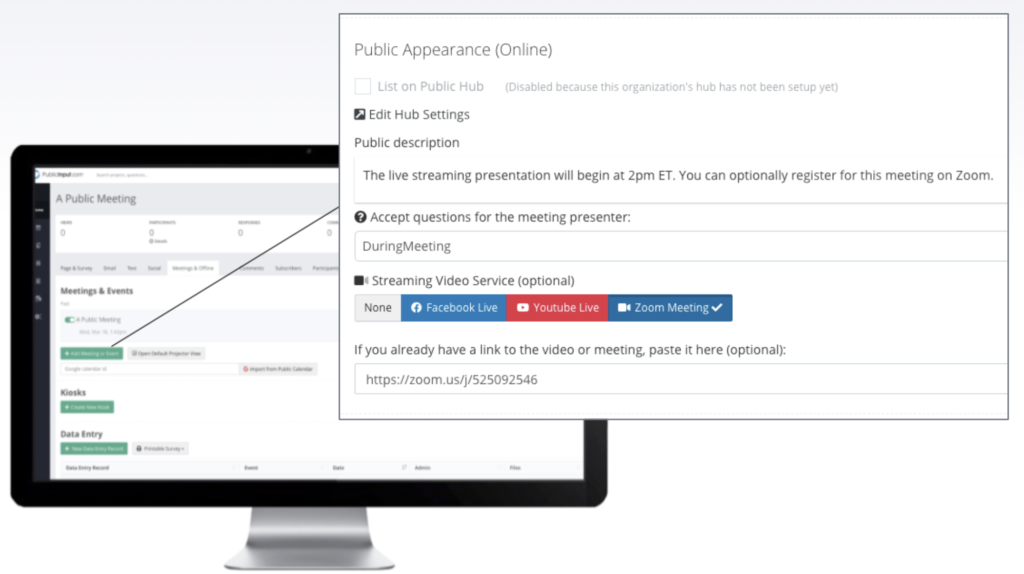 In light of the coronavirus, government organizations are finding themselves in a new landscape when it comes to public engagement. Local, regional, and state governments face two major challenges:
How can we keep key public processes in place if we can't hold meetings?
How can we communicate quickly and consistently with residents with pertinent information related to COVID-19?
Multiple remote presenters and unlimited attendees
Screen sharing for presentations
Easy, no-login access for the general public
Real-time comments and questions using the PublicInput.com engagement hub
Leveraging Technology & Industry Expertise
We understand the need for communications to be multi-channel, and our goal is to help you manage that while providing new pathways for residents to engage. This positions you to create direct resident relationships, while reducing reliance on PR and social networks to get the message out.
We are also coordinating with several consultants in our Certified Partners program who have experience in Hazard Mitigation and Emergency Management. We'll be working with them to arrange office hours for questions and advice as this situation develops.
As always, you can chat with us here on our website or schedule a quick call with the success team through Calendly here.