Virtual public meetings are not easy.
There, we said it.  Despite any claim to the contrary from conferencing software companies, it's important to recognize that hosting virtual public meetings come with a learning curve for a number of reasons:
You're trying to organize real-time interactions between dozens (if not hundreds) of people
Attendees are joining via a wide variety of devices, some with serious limitations
Organizers are expected to coordinate speakers, answer questions, and keep an agenda on track – a tall order even in-person
Once we recognize the inherent challenges of meetings, it's easier to prepare teams to handle them with grace and confidence.

The one sure way to pick up that confidence is practice.

In April and May, over 30 organizations launched 95 public meetings on the PublicInput.com platform. Behind those 95 public meetings, though, were 286 practice meetings.

From observing those practice meetings and supporting teams through their process, we've identified key places in the process where we can smooth the path to successful meetings. And that's why today we're launching our biggest set of updates to the meeting toolkit yet, including a real-time feature that'll help you stay ahead of common virtual meeting issues:
Introducing Meeting Coach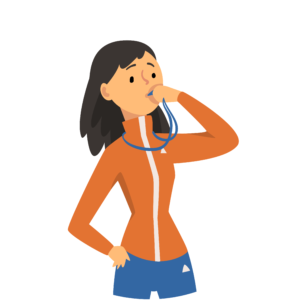 Meeting Coach is a new feature that intermittently appears on the administrator view of your virtual public meeting. Every 10 seconds, Meeting Coach checks your meeting configuration for common issues.

If something's not quite right, a Meeting Coach notification will appear in your public conference line interface with the issue and an action to resolve it:

We've initially set these up as reminders and checks for the most common issues. You'll see Meeting Coach appearing more frequently as we identify more ways for her to help.

Keep in mind, Meeting Coach is still no match for thoughtful preparation – so keep those practice meetings going!
Meeting updates: simplified options + more control
PublicInput.com is the only engagement platform that combines the accessibility of a live online broadcast with the security of a managed public conference line.  Today, going live with this secure, accessible approach is easier than ever – just in time for many of the "smaller" meetings like planning commissions and community boards to get their meetings going.
A simplified "basic" meeting setup
Sometimes, you just want to have a basic meeting. If you're not looking to manage a public comment forum or do pre-registration, the defaults are now already set up when you create a new meeting: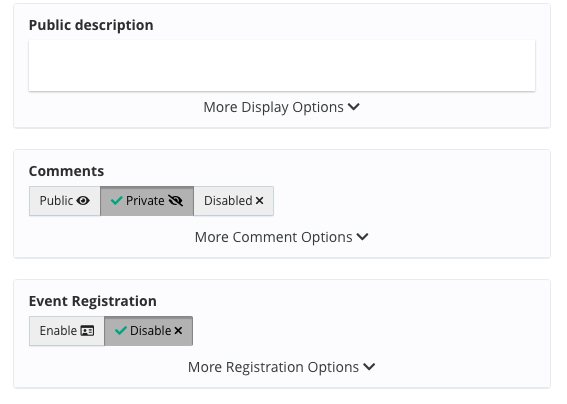 More control for power users
More control over comment moderation and privacy
Expanding the single-click comment options show a host of new options for power users.  The full spectrum of interactivity and moderation tools that you're used to on survey pages are now extended to meetings: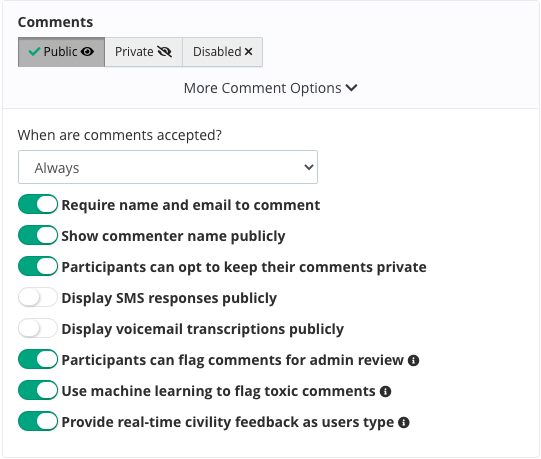 More control over your meeting's public appearance
Providing multiple, redundant formats for participation is key to:
Ensuring your virtual engagement complies with modified state open meeting laws
Improving access for all residents
Creating more equitable engagement opportunities
Now you're in control of how those options like phone, email, and text messaging appear on the public meeting page:

Customize meeting registration and capture to your resident database
Most mainstream conferencing and webinar tools aren't built for public engagement, and don't provide the flexibility and transparency government organizations need for conducting the public process.

These new registration options give you the ability to collect and automatically store participant information – like name, address, email and phone number. This information is stored in the CRM section of your PublicInput.com account – a built-in resident database of all participants across multiple projects, surveys, meetings, and formats.  Storing this information centrally is increasingly important as you make the transition to virtual engagement, and simplifies conducting future outreach and follow-up.

These changes also allow participants to pre-register to speak at the meeting, limit speaker pre-registration, and offer registrants the option to be called when the meeting starts: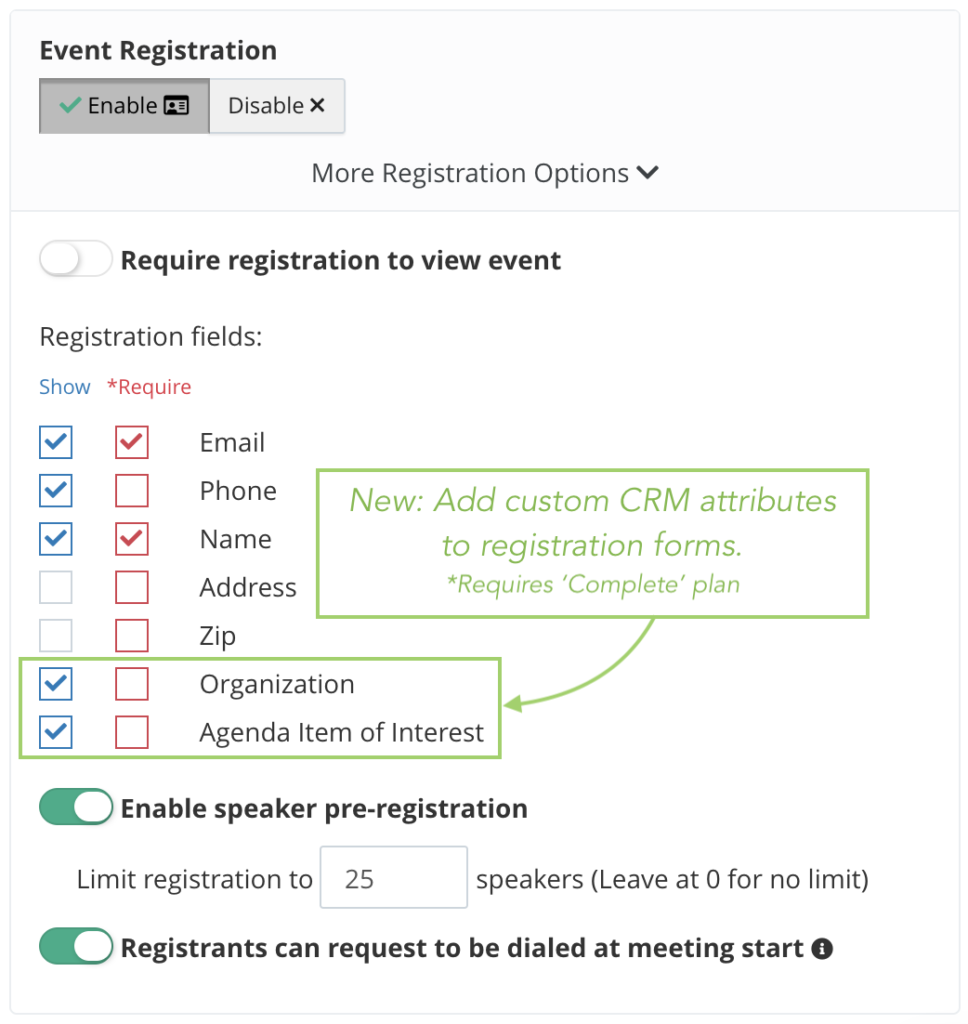 Big picture: making it easier for all teams to go virtual
Making the shift to virtual meetings can be daunting for any organization. We're here to make that shift easier, all while ensuring you stay compliant and provide more accessible pathways of participation for all residents.

Meeting Coach and customizable engagement options are another way for us to show our commitment to continuous innovation for your engagement success. If you've got questions about meeting tools for your organization – feel free to drop us a note at [email protected] or schedule a virtual demo here: