In addition to our knowledgeable customer support team, we have a community of certified, expert partners ready to help you get the most out of PublicInput.com.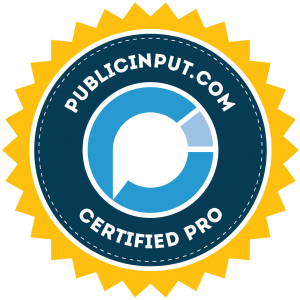 To date, over 50 consulting firms have leveraged PublicInput to achieve better engagement outcomes. Given the desire for firms to differentiate their unique expertise and experience with the platform, firms can join our certified partners program.

Differentiate with industry-leading software that supports best practices
Integrate the entire public engagement process
Manage engagement and responses in one database
Target and reach underrepresented communities
Automate analysis and instantly report results
Provide a Comprehensive Participant Database for your clients
Build credibility through training and certification
Develop platform expertise through online training modules
Stay on top of best practices by participating in PublicInput.com user groups and webinars
Elevate your firm through achieving Certification Tiers
Benefit from marketing and business development assistance
Have your firm highlighted in case studies, webinars, blogs, social media, and more
Coordinate with our experts to develop effective engagement strategies and help position your firm for project pursuit
Become a partner
To learn more about our partners program or becoming a partner, please email Graham Stone at [email protected].