In our work with hundreds of public agencies, we've seen many approaches and tactics applied to public engagement. While every community is different, a clear pattern has emerged to creating successful engagement outcomes.
The key? Great engagement takes a long term commitment to building public trust.
Trust is not built by adding yet another app or widget, but by taking a more holistic approach to our interactions with the public. We've put together a visual of the key steps to building trust and sustained engagement success.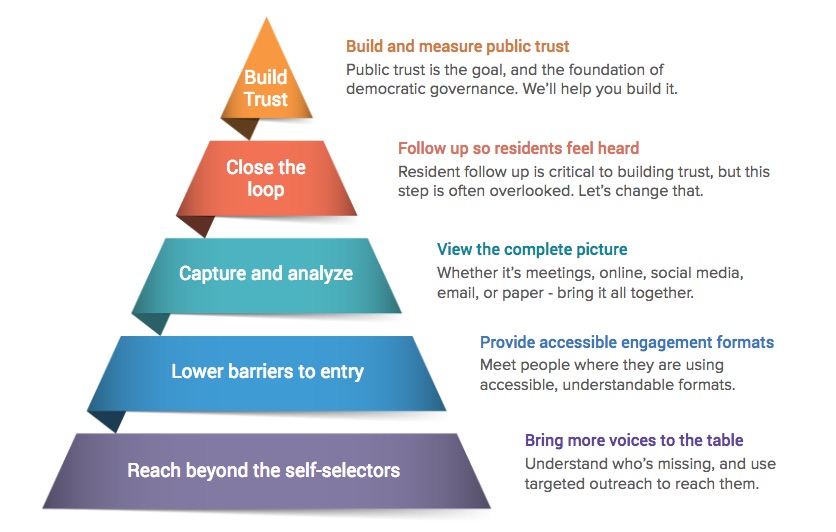 More method, less madness
Engagement has too long been defined by an approach of "throw everything at it and see what sticks". By applying a thoughtful, deliberate process, agencies can reclaim their time and sanity – and get better outcomes. Here's the key steps of that process.
Reach beyond the self-selectors by using targeted outreach and census information.
Lower the barrier to entry by meeting residents where they are – online or offline.
Capture and analyze by bringing together all engagement to see one, complete picture.
Close the feedback loop by easily following up with residents.
Build trust through a cycle of engagement and re-engagement.

Reach beyond the self-selectors

The engagement status-quo empowers a handful of voices to dominate the conversation. Meaningful community engagement needs to consider a representative sample of residents who will be most affected by a given project. To reach those people, PublicInput.com helps agencies build a base of engaged residents through targeted outreach.
After conducting initial outreach, we help you analyze your participant geography and demographics to understand which areas and groups need additional outreach. With each wave, you build a database of residents to engage and re-engage with on the issues that affect them the most.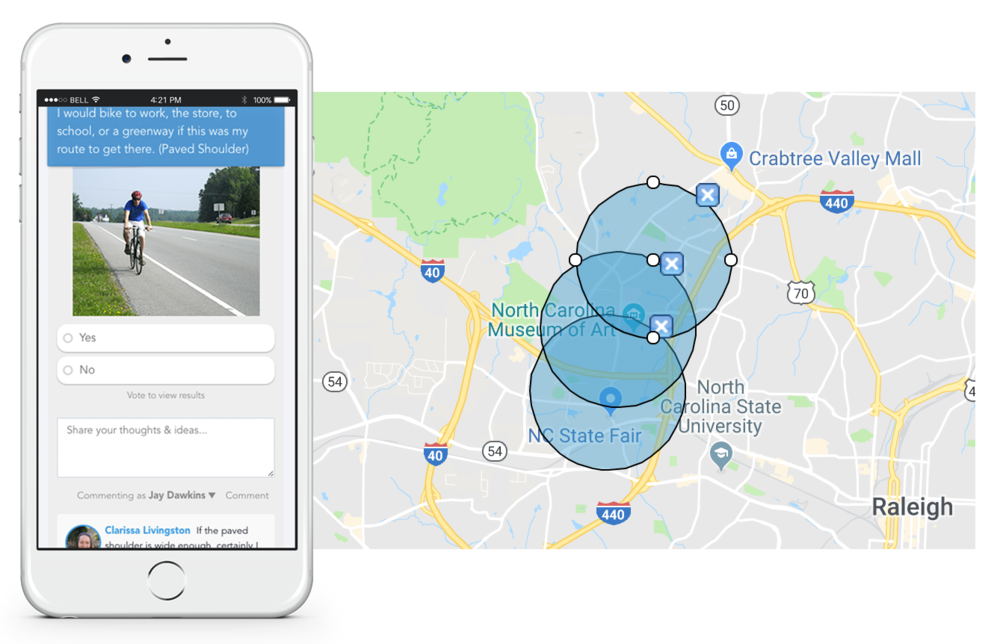 Read More:

Lower barriers to entry
It should be easy for residents to build a relationship with their local government. With mobile-first design on project websites, surveys, and emails, you can now meet residents where they are, on-the-go. Where smartphone or Internet connectivity is lacking, any survey can be converted into SMS mode to provide a seamless experience for all residents.
Multi-lingual outreach is built into every facet of engagement – content can be translated into 100+ languages so everyone can participate in their native language. With two-way translation, staff can rest assured that they can quickly assess all comments, no matter the language.
Read more:

Capture and analyze
Understanding your residents relies on capturing relevant public input, keeping it organized, and analyzing in ways that tell a clear story. However your residents choose to participate – be it online or offline – PublicInput.com gathers that input to create resident profiles and analyze big data stories.
Read more:

Close the loop
Following up with residents is a critical step in building public trust. Let residents know that their voices have been heard – and what the next step is – by following up directly via email or text message. Create customizable reports to share internally or externally with all stakeholders and residents.
Read more:

Build trust
Public trust is built by engaging and re-engaging. Everything we do at PublicInput.com is to improve relationships between local governments and their residents. We do that by being true partners with the agencies we work with – offering best practices and innovative software. We are in this for the long-run, and know you are, too.
PublicInput.com is now working in 35 states
PublicInput.com gives agencies – and those who work with them – a toolkit to succeed at every step of community engagement. Learn more about this growing ecosystem of public agencies working to improve engagement and build public trust.